ENJOY MESSY MEALTIMES AND PLAY WITH THE SMOCK
With a Messy Mealtime Smock, you'll love the unique all-round cover, the extra-long length, the fast wipe and washability, and the lovely softness of the waterproof fabric.
The adjustable neck and wide short sleeves make it ideal for usage in tropical weather and a great fit for a growing toddler!
LEARN MORE
CLEANER FLOORS WITH THE FOOD CATCHER
The Food Catcher has a large catch zone for food that falls or is thrown down the front, sides or lap of the high chair by your little one.
Quick wash. Quick dry. Set and forget.
LEARN MORE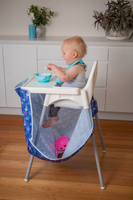 MESSY MEALTIME SMOCK DESIGNS
HIGH CHAIR FOOD CATCHER DESIGNS
Testimonials
Loving the Food Catcher. It's super easy to clean up the mess after a meal! 

Nat, Singapore
With the Food Catcher, I can now make sure I settle baby first without worrying about ants getting to the food splatter on the floor. 

SJ, Singapore
Super in love with the lovely prints and simple yet effective design! 

Audrey, Singapore